60 minutes. $35 per person.
Escape Rooms
Escape room game scream reactions
Gameplay Footage
At first I was skeptical. Even 30 mins into it I still was. But then I got hooked in the game. It was fun totally worth the money. I even kept playing the game with my kids hours after we left. Make sure you go in groups as the more the noisier it'll get and the more fun. Definitely worth the cost and will be back again.
Recently went as a part of a work function. The room was well thought out and put together. It required precise communication and teamwork in order to complete. Our entire group of six were actively participating the entire time. No one was left waiting or with nothing to do. We had a great time and would return the next time we are in Toronto together.
Such a wonderful experience. The horror ones are so much fun. The staff was helpful and friendly. The staff was wonderful, gave us extra time to play, gave us loads of helpful hints, and were rooting for us the entire time. Best escape room in Canada. I would highly recommend to anyone looking for a fun 60 minutes.
A huge shout out to the Managers: Yating & Jocelyn, the rest of the crew who made our visit truly special! I had planned a surprise for my wife on her birthday and the staff went above and beyond to help me plan & execute it! My wife totally loved it! Thank you so much! I must admit that it is not easy for a couple to crack the puzzle without hints. I can't wait to visit the other rooms with friends!
I've only ever been to 1 escape room prior, but I have to emphasize how FANTASTIC the staff is here. I didn't get any of their names but the 3 ladies working here were so friendly & accommodating. Your experience is their #1 priority; the hints they give are super helpful without giving away too much information. Would recommend to anybody wanting to give it a try.
I really enjoyed the rooms I've done here and will absolutely come back to finish the other 2! I've done 3 so far with different groups of friends and everyone I've come with has had an amazing experience. The employees are friendly and even once accommodated a friend with his mobility needs. Always so friendly. Rooms are really fun!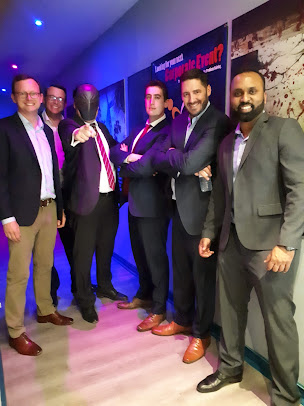 exciting. rewarding. Suprising fun.
Why choose Enigma Room?
Made for you
Enigma Room is for thrill seekers and problem solvers.
Conveniently located on 130 Dundas St West, Toronto (next to Ryerson University). Past clients include Google, Apple, Uber, Microsoft, Coca Cola, Pepsi, Cineplex, RBC and more.
Our escape rooms are made for all ages. There are no special skills needed to have a great time. Bring your friends, family, co-workers, field trip classmates and have fun.
Whatever the celebration Enigma is here to take it to another level. Book your room and contact us to see how we can help make any special occasion even better.
From the producers of
Enigma Canada Escape Rooms
Contact Us
Visit Us In Downtown Toronto 🍁
130 Dundas Street West, 3rd Floor
Toronto, Ontario, M5G 1C3