60 Minutes. $36 Per Person.
Corporate Events, Birthday parties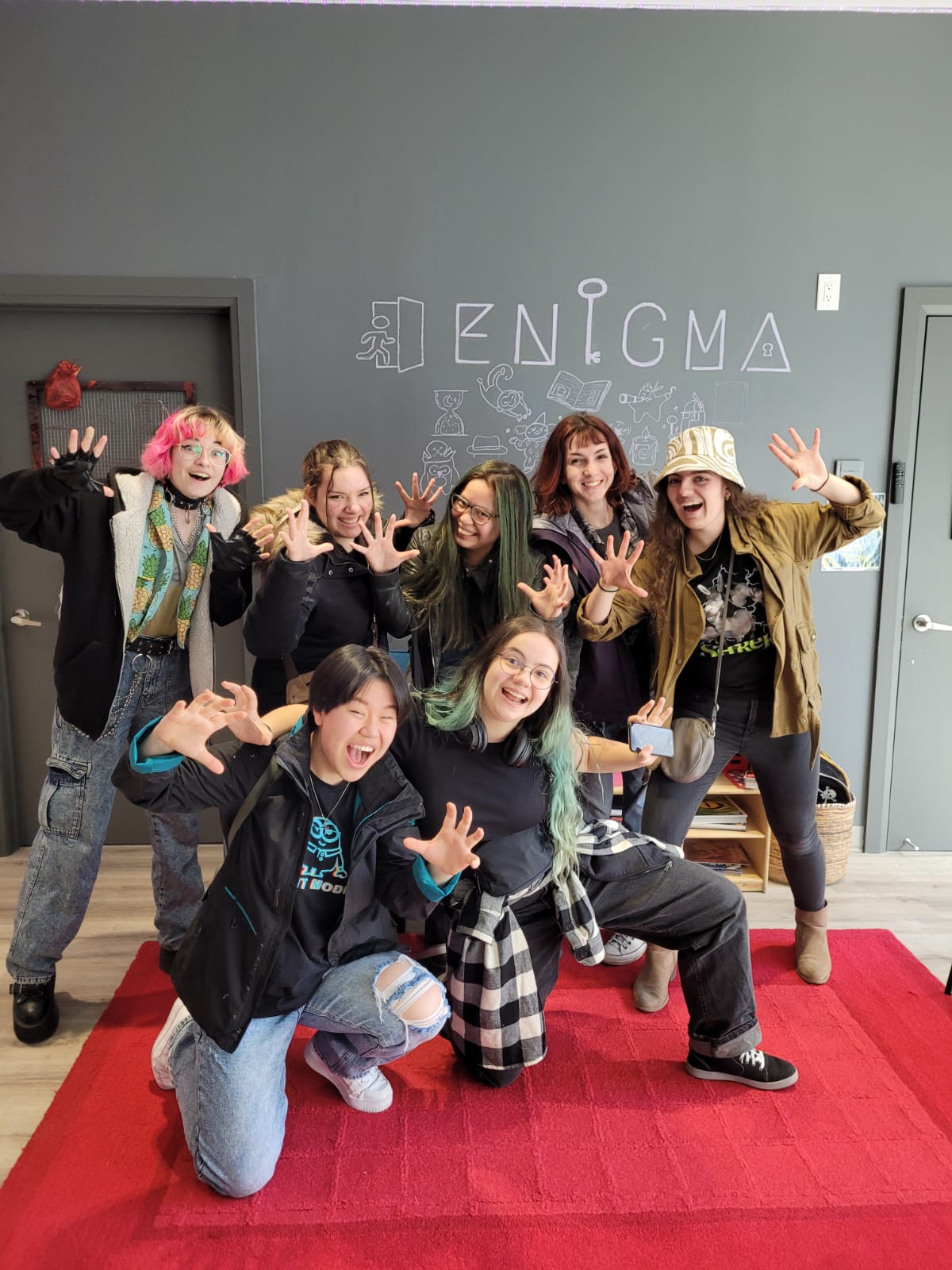 SYNERGY.
TEAMWORK.
DOWNTOWN.
Perfect team building exercise to activate your team's problem-solving abilities, conveniently located in Downtown Toronto.
Unlock Success Together: Elevate Team Bonding with Our Escape Room! 🚀 Choose Us for Unforgettable Team Building Adventures, Where Puzzles Forge Stronger Connections and Collaboration Prevails. Dare to Challenge, Unite to Triumph!
To book your next corporate event, please call 647 859 1143
Conveniently located at 130 Dundas Street West, Toronto
Past clients include Google, Apple, Uber, Microsoft, Coca-Cola, Pepsi, Cineplex, TD, CIBC, Amazon, RBC, and more.
Our escape rooms are made for all ages. There are no special skills needed to have a great time. Bring your friends, family, co-workers, field trip classmates and have fun.
Whatever the celebration Enigma is here to take it to another level. Book your room and contact us to see how we can help make any special occasion even better.
It was my first time trying an escape room! I went to Enigma Escape Room on a date and did the "Fairy Tale" escape room. The riddles were challenging but fun to figure out. The room itself was small, but decorated like the "magical fairy tale land" that was promised, so I don't have any complaints as it was just the two of us in the room. Ours was experience was immersive.
Also the level of customer service was great. The staff were incredibly friendly and helpful, and gave very clear instructions on how to complete the escape room, which made the experience even better. We only needed 1 hint to finish the room.
Overall, I had a great time! If you're looking for a fun and challenging date activity, I definitely recommend checking it out!
Had such a good time! Puzzles were fun and challenging without being too difficult and the room was well made and detailed with cool ambiance, props and decorations. Staff was super helpful and friendly 10/10 would recommend this place for a fun time with friends.
The exocist room was so scary exciting! Intricate and creative puzzles which took teamwork to a whole new level! We absolutely loved our experience! The lobby is such a comfortable place to hang out. We had the best time and cannot wait to come back! I've only ever been to 1 escape room prior, but I have to emphasize how FANTASTIC the staff is here. I didn't get any of their names but the 3 ladies working here were so friendly & accommodating. Your experience is their #1 priority; the hints they give are super helpful without giving away too much information. Would recommend it to anybody wanting to give it a try.
Very fun escape room. As a beginner, I tried the pirate room, which ended up being challenging, but fun. I would also like to add the fact that the staff are very kind and friendly and even offered to take a picture for our group.
Definetly recommend!
They have delicately designed escape rooms. HOWEVER, more importantly is the younger lady who works there who went above and beyond every single time we went there. I'd say at least half of the 5 stars reviews mention customer service. If you are the business owner, give her a raise. She well deserves it.
If it's your first time trying an escape room – you're in for a treat! Don't listen to any of these "experienced escape room players." This new location is a refreshing take on escape rooms. The staff are so friendly and welcoming, the new people in our group want to come back again!
Contact Us
Visit Us In Downtown Toronto 🍁
130 Dundas Street West, 3rd Floor
Toronto, Ontario, M5G 1C3